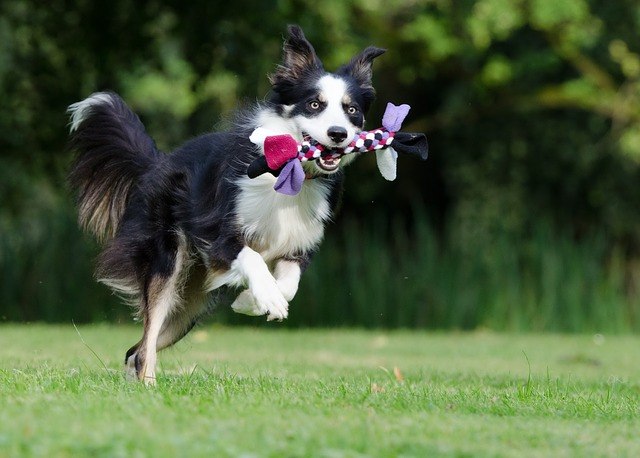 Healthy Dog – Equals An Active Dog
Healthy Dog – Equals An Active Dog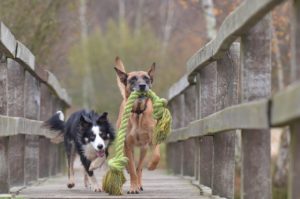 We all want to have healthy dogs, which means your dog should be an active. The the better their diet and the more active they are the healthier they will be. It is not good for them to lie around doing nothing unless it is older or injured. So it's our responsibility to be sure our dogs get the exercise and movement they need. If your lucky like me, you have an active dog with a lot of energy. It's great for many reasons. In our house it means that Dusty is in good health. She is part White Labrador Retriever and part Greyhound. Because of the breeds in her, if she had low energy it would mean that she was really sick.  For about 6 months she had a rare yeast problem that displayed itself on her skin with sticky armpits and itchy feet.  Even though her feet itched a lot she still enjoyed going outside and playing.

An Active Dog Makes It Easy For You Both To Be Active
I don't have to do much to be sure she gets enough exercise because my husband enjoys playing with her. I tend to be easy going and low key. So, when I first got her I loved on her and took her on lots of walks. Then 3 years later a man entered into our lives who loves to play ! I'm pretty sure Dusty was abused when I adopted her at the age of 1 years old from the State pound. She would cower when I pet at her and snapped at me when I tried to pet her with my feet. She also HATES bathrooms. I'm assuming a man abused her because the only man she has accepted right away was my dad who is also easy going like me.
So ,when she was first introduced to my husband 3 years later she really really wanted to go see him, but just couldn't bring herself to do it. He would walk through the door and she would suddenly become a really active dog jumping around and fussing like she really wanted to go over to him but couldn't bring herself to do it. Because of her previous experience in another home it took about 2 weeks to finally let him to pet her. Now he runs around the house getting her to run after him, throws toys and rough houses with her. Boy does she love that! And she burns off some energy too ! She looks forward to the end of the day when dad is going to get home and play ! After he pets her she runs and gets a toy or runs around to play.
Larger Dogs Are More Active
Larger dogs tend to be a more physically active than smaller dogs. These types of dogs are working or hunting dogs. They have an inborn desire to be busy and work off their energy. Some of those breeds of dogs are Irish Setters, Doberman, German Shepherd and Greyhounds, and are built for movement and agility so they naturally desire daily exercise.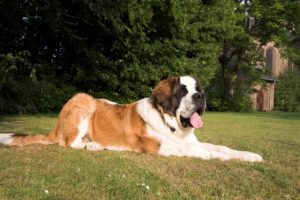 Size Of The Dog Does Not Mean The Dog Will Be Active
Just because a dog is large though doesn't mean they have a lot of long lasting energy.  If you have one of the following breeds of dogs and wonder why they don't have the energy you expected them to, there is a reason. Extremely large dogs like the St. Bernard and Bull Mastiffs, that can easily outweigh their owners, are low activity dogs. Even though you see the St. Bernard in movies rescuing the lost skier, what you miss is the rest of the time when the dog is sleeping in front of the fireplace. They have heavier bodies which weighs them down so their energy doesn't last as long as the larger dogs with sleeker bodies.
Small Active Dogs
Large dogs aren't the only active dogs.  Smaller dogs like poodles, Pekinese, chihuahuas and puppies don't have to be taken to the park or run around the backyard to be active, but they still enjoy it.  They may also be content to run aimlessly around the house and jump on people that come over to your house or jump on you.  But they do calm down when their energy burst is spent.  They may crawl up on your lap or on their bed for a well deserved nap.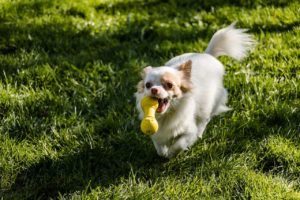 So, when you are thinking about your day and what you are going to do, being active with your dog should be one of those things. If your naturally active, being active with your dog may come naturally. If it doesn't, after you may finish up a task around the house and decide you need a break take a break with your dog. Grab a ball or a toy and go outside and throw it around for a little while. You could also play a game of chase. If you have just come home from work grab a chair outside, sit down and throw the ball or the toy. They will love the attention and the running around ! Being outside in the fresh air will help you too. Playing and running around is what dogs are wired for.
A healthy, active dog needs an active owner – at least to some degree !
Please feel free to leave  comments or questions below !